Welcome to the website for Burke Trieschmann, DBA- Open Door Productions and Open Door Harmonicas.
I hope you enjoy the site.
Burke T.
---
NEWS AND UPDATES:
3-18-18
OPEN DOOR PRODUCTIONS
OPEN DOOR PRODUCTIONS:  Looking forward to meetings, new tech, and re connecting with many of my game audio brethrens and sesthrens at the Game Developer's Conference taking place at Moscone Center in San Francisco this week.
LIVE MUSIC AND PERFORMANCES
LIVE MUSIC AND PERFORMANCES:  Recently focusing on rounding out our Live Performance and gigging adventures, I just finished a busy week of Irish music events.  6 Gigs over a 5 day span.  My good friend, amazing fiddler and singer songwriter Lucia Comnes, was in town and we played several events together culminating with her CD release party for her new CD (Held in the Arms) at the Great American Music Hall in San Francisco.
As the audience & other videos come in, I will provide links to You Tube.  I have a few welcome days off before performing next Friday at the Irish Cultural Center in SF.   Here is the promo that went out before last night's show with Culan's Hounds, Lucia Comnes, and One Grass Two Grass.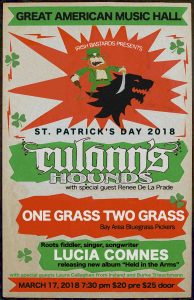 More info and press release here:
Keep an eye out for more info on our upcoming performances.
Music Makers Monday Open Mic. Showcase (At the Ivy Room)
MUSIC MAKER'S MONDAYS:    Kick off for this Pop up show is on Monday April 16th.  There has been a lot of interest in starting the open mic back up at the Ivy.  With the help of Lupe Muller we hope for great evening of music fo all.
The critical info and action will be taking place on the Facebook event page, including sign in and updated tally's on who is going.
https://www.facebook.com/events/174811943149676/
---
03-19-18
OPEN DOOR HARMONICAS
OPEN DOOR HARMONICAS NEWS:     Wrapping up some lingering harmonica custom orders and repairs and making some new Custom Pre Builds to post to our for sale page:
Some new Seydel 1847's with legacy Dymondwood combs, Manji Hybrid Customs, Marine Band Classics, Sub 30's and more.
Also working on the latest newsletter for our harmonica customers and supporters.  A taste of what's to come here:
Thanks to all who purchased or ordered a custom harmonica from our last Newsletter and Year End/ "Pre Built Customs for sale" page!  Feedback has been great.  I have been trying to add new pre builds models as I can  in between "built to order" projects.  You can view the latest listings here:
---
CUSTOM HARMONICAS FOR SALE – PAGE.
Still clearing out some of my diatonic harmonica inventory and offering several different models of "Pre Built" and ready to play "Custom" harmonicas from Seydel, Hohner, Suzuki, Hering, and others.  They feature high quality custom reed work and various combinations of custom combs, cover plates and other upgrades.
Some interesting new additions include Custom Suzuki Sub 30's in both recessed comb and "tin sandwich" models, Rare and discontinued Suzuki "Firebreath" customs with Rosewood combs, several nicely refurbished Pre War Marine Bands and "Old Old Standbys", Seydel 1846 Customs including some with the cool black Seydel/ Fender Midnight Special cover plates and stainless steel 1847 Noble reeds and combs, a still a few custom Bb Marine bands with upgraded combs and cover plates left from the last sale.
New additions and coming soon:
I am pleased to announce that I will be supporting and building out some of the Brendan Power "Duo Harp" models.  Our first models will be the Twin Octa Harp, Duo Octa Harp Selectable, and Switch harp.  Please contact me for more information if you want to order one of these combo models.  They are pretty awesome.
Chromatic Harmonicas- upgrades, customs and optimized options.
I support and have a selection of Brendan Power's "Power combs"   I'm installing on various 260, 270, and 280 Hohner Chromonica/ Chromatic Models and can order combs for other supported models.  I will update and post as "for sale" as they become available.
I also offer support for the Brendan Power "Lucky 13" models for repairs or upgrades.
Special builds, tunings, and harmonicas for traditional music:
From my own playing in various traditional Irish and Celtic bands / sessions, I have been building some harmonicas tweaked to these playing styles.  Auto Valve octave harps in various keys (tuned to "Easy Third" tuning upon request), Hohner 260, 270 Chromatic Hybrids in reverse slide tunings for concertina type ornaments (popular keys G/F# and D/ C#), Paddy tuned diatonics, Power Bender Promasters, and more.
Hohner 364 and 365's:
One of my favorite custom models for those low key Sonny Boy/ "Bye Bye Bird" blues tunes.  Featuring custom combs and full custom reedwork.  Tuning options available, and a limited supply of the (now discontinued) Steve Baker Special model with the added low octave tunings on the lowest notes.
Repairs:
I offer a range of repair services for both diatonic and chromatic harmonicas.  Including "upgrade to custom level specs"- options, for lightly played or harps that you might have in your kit that are still "like new".
I also support repairs of legacy custom builds.  (See the Joe Spiers Harmonicas & repair information page.  If you have some of these wonderful old customs in need of TLC, missing reeds, in need of new combs, etc.) please email me for more information (info@opendoorprod.com).