CUSTOMIZED DIATONIC HARMONICAS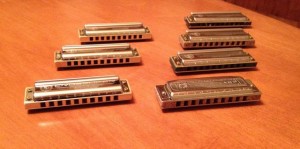 I offer custom and optimized harmonicas for the following manufacturer's models:
HOHNER:  All Marine Band Models (1896 Classic, Deluxe, Crossover, Special 20, 364 and 365's), Rocket, Thunderbird, Golden Melody, All MS Models, XB 40's.
SUZUKI:  Manji, Promaster, Olive, and many other models.   Also Special Custom modifications to 30 reed Sub 30 Harmonicas.
SEYDEL:  All 1847 Models (Classic, Silver, and Nobel).  Please ask about other models.
LEE OSKAR:  Optimization only.  Please inquire.
For rates and more information please contact: info@opendoorprod.com