Come Join us for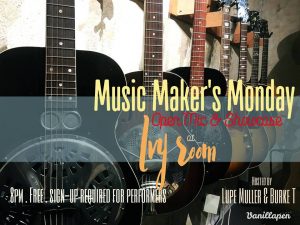 Kickoff date April 16th, 2018.  Show starts at 8:00 PM.  Musicians check inbetween 7:30 and 7:30
Currently we are running all the information and sign up through the Facebook event page which can be found here:
https://www.facebook.com/events/174811943149676/
In a nutshell:
Music Maker's Monday is an open mic performance showcase for musicians and friends. Catch local performers on the making and seasoned songwriters on the path. Sip on crafty drinks and enjoy a laid back vibe.
Got new songs? We'd love to hear them!
Musician Sign Up:
-Email us at musicmakersmonday@gmail.com
-Include your name, genre, preferred time slot and input requirements.
-Time slots are hourly from 8-12
-Deadline April 15th, 1PM
How We Roll:

-Musicians perform 2 songs, no longer than 10 minutes (set-up and breakdown included)
-Original music preferred and encouraged… if you have a great cover rendition, bring it.
-Musicians who bring friendly crowds of 3 or more may perform a third song.
-Please check-in at least 20 min before your assigned slot.
Check back soon for updates.